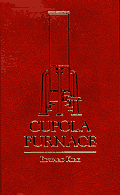 COPOLA FURNACE 3ED
by Edward Kirk
ISBN: 1559182199 Subtitle: A Practical Treatise on the Construction & Management of Foundry Cupolas Subject: foundry cupolas Media Run Time: 35 Min. 30 Sec.
$28.95

Publisher Comments:
Ol' cupola fanatic, Stewart Marshall, will tell you this is the iron caster's Bible. Cupola are easy to build. Take a couple of pails or small barrels and weld them together. Then line them with fire clay. Load with coke, iron, flux and turn on the blast. In minutes you'll have more cast iron than you know what to do with. You'll come away from the experience hot, dirty, and tired, but deeply satisfied. And with a thousand questions.
Most of those questions Kirk can answer in this third edition of his classic text from 1910. Chapters include the cupola furnace, improvements in cupolas, constructing a cupola, cupola tuyeres, cupola management, modern cupolas, large cupolas, small cupolas, examples of bad melting, hot-blast cupola, freezing the blast, cupola fuels (yes, you can melt with charcoal), fluxing of iron in cupolas, what a cupola will melt (no mention of your mother-in-law's gold teeth or castiron heart), art in melting, the cupola accounts (how to make money), explosion of molten iron, getting up cupola stock, running continuous stream, number of men required to man a cupola, scientifically designed cupolas, cupola straps, blast pipes and blast, blowers, and foundry tramrail.
Too much work for you? Naw! In chapter 20 you will read "one man does all the work for a 2 1/2-ton melt, 3 tons being the limit. He repairs his cupola, taps out wheels and weighs the iron, limestone and coke, wheels out the sprues and charges all of the material in the cupola". I'll have to agree with Stewart Marshall, this is one great practical cupola book (and I've seen a few...). With Marshall's book of modern practical advice, and Kirks experience from almost a century ago, you, too, can master an ancient art and pour cast iron. Great book. Get a copy!