TO ORDER JUST CLICK ON THE SHOPPING CART. You can put the book in your shopping cart and change your mind latter.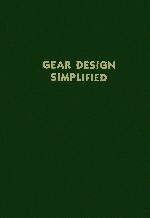 GEAR DESIGN SIMPLIFIED,
Third Edition
By Franklin D. Jones and Henry H. Ryffel

1961, 6 x 9, Hard, Illustrated, 151pp
ISBN: 0-8311-1159-3
$32.95
1-961-115

OVERVIEW
This classic reference is a compilation of a series of gear-designing charts illustrating by simple diagrams and examples the solutions of practical problems relating to spur gears, straight-tooth bevel gears, spiral-bevel gears, helical gears for parallel shaft drives, helical (spiral) gears for angular drives, herringbone gears, and worm gears.

FEATURES
Contains a series of simply diagrammed gear-designing charts, illustrating solutions to practical problems. Presents all of the rules, formulas, and examples applying to all types of gears. Aids design engineers and manufacturers involved in the production of gears.

CONTENTS
Standard Gear Tooth Forms and Dimensions. Spur Gears- Full Depth Teeth. Spur Gears- Stub Teeth. Internal Gears. Bevel Gears- Right Angle Drives. Straight Tooth Bevel Gears- Gleason System. Bevel Gears of Parallel-Depth type. Helical or Spiral Gears. Herringbone Gears. Worm Gearing. Gearing Ratios and Speeds. Power Transmitting Capacity of Gears. Definitions of Gear Terms. Index.