TO ORDER JUST CLICK ON THE SHOPPING CART. You can put the book in your shopping cart and change your mind latter.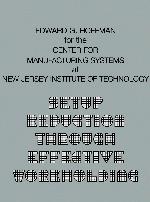 SETUP REDUCTION THROUGH EFFECTIVE WORKHOLDING
By Edward G. Hoffman for the Center for Manufacturing Systems at New Jersey Institute of Technology


1996, 8 x 10, Hard, 256pp
$39.95
1-961-180

OVERVIEW
In the setup process it is accepted procedure to eliminate all redundant or unnecessary activities, perform operations concurrently, move on-line operations off-line, and use the "buddy system" to minimize total setup time. But the most labor-intensive and time-consuming step is usually workholder, or fixture, preparation. This book contains procedures, hints, and suggestions for improving methods for workholding.

FEATURES
Presents improved methods that are designed to save time and money and help the reader increase productivity. Covers the basics of setup reduction. Discusses in considerable detail all aspects of workholding. Provides suggested alternatives to existing accepted procedures. Offers helpful and innovative techniques for workholder preparation designed to improve efficiency in executing setups.

CONTENTS
Introduction to Setup Reduction: Understanding Setup Reduction. Basic Workholding Principles. Workholding Options and Economics. Setup Reduction Techniques: Techniques for Locating. Techniques for Clamping. Techniques for Workholder Setups. Techniques for Chucks and Collets. Techniques for Vises. Techniques for Power Workholding. Additional Resources. Index.
| | |
| --- | --- |
| Name | |
| Title | |
| Company | |
| Address | |
| E-mail | |
| Phone | |